Celebrating the women we love!
Santa Writes Back
Regular price
$7.99 CAD
Sale price
$9.99 CAD
Unit price
per
Sale
Sold out
About This Product

Plantable Greeting Card:

- 4" x 5"

- blank interior

- includes A2 brown recycled envelope (20% PCW - post-consumer waste) made from 100% recycled materials all sourced in Canada

- paper card made from 100% PCW recycled paper pulp embedded with 6-seed blend including:

Catchfly, Sweet Alyssum, Snapdragon, Bird's Eye, Black Eyed Susan, Clarkia

- non-invasive

- non-GMO

- native to North American soil
Did your little one(s) write a letter to Santa this season? Do they know that sometimes Santa writes back (on his favourite stationary - plantable wildflower seedpaper)?
Let us help you keep the magic of the season alive with a personalized note directly from the North Pole! Choose from one of three unique "official" designs straight from Santa's desk, write the message that you want your child to receive, select your favourite font, and add to cart! 
Planting Instructions: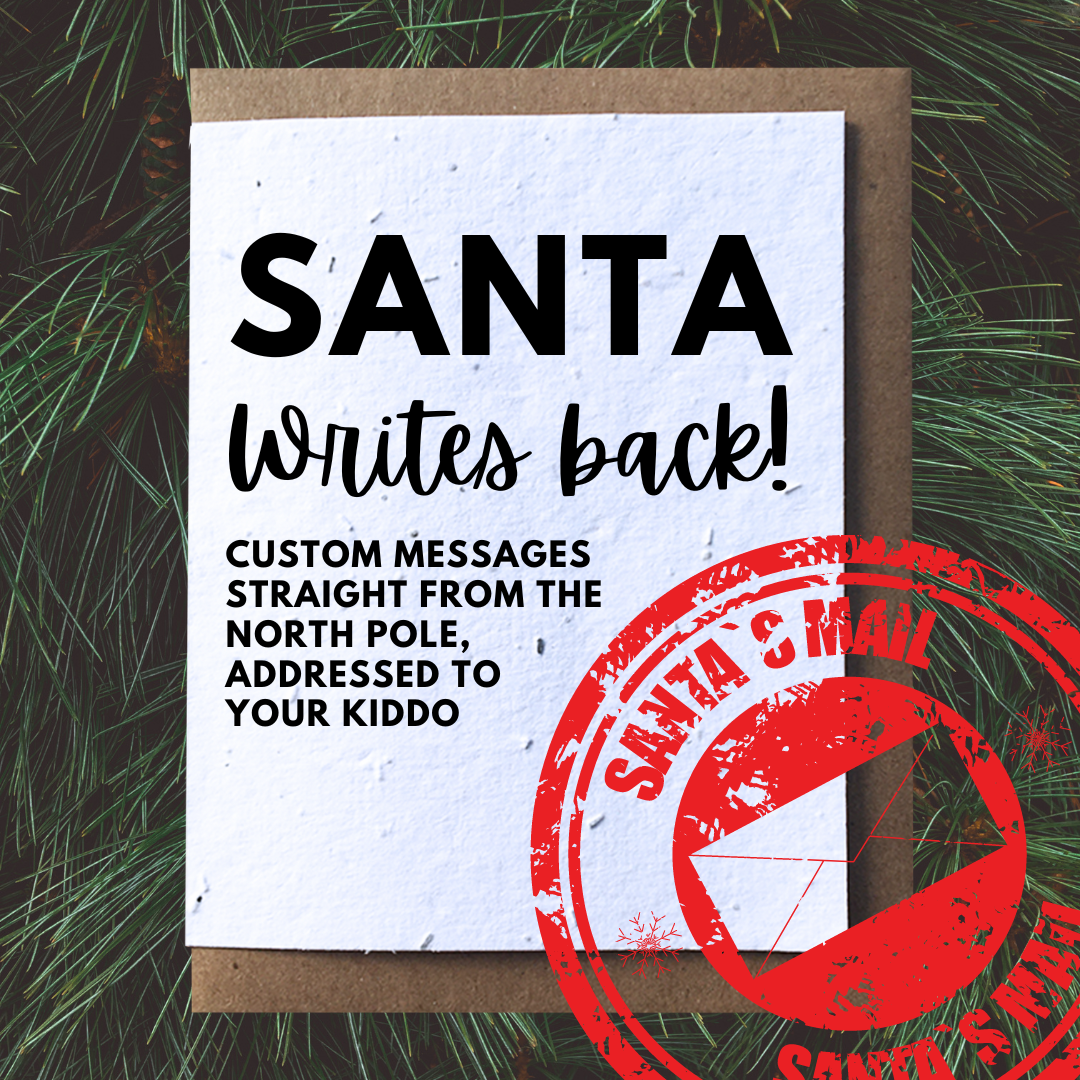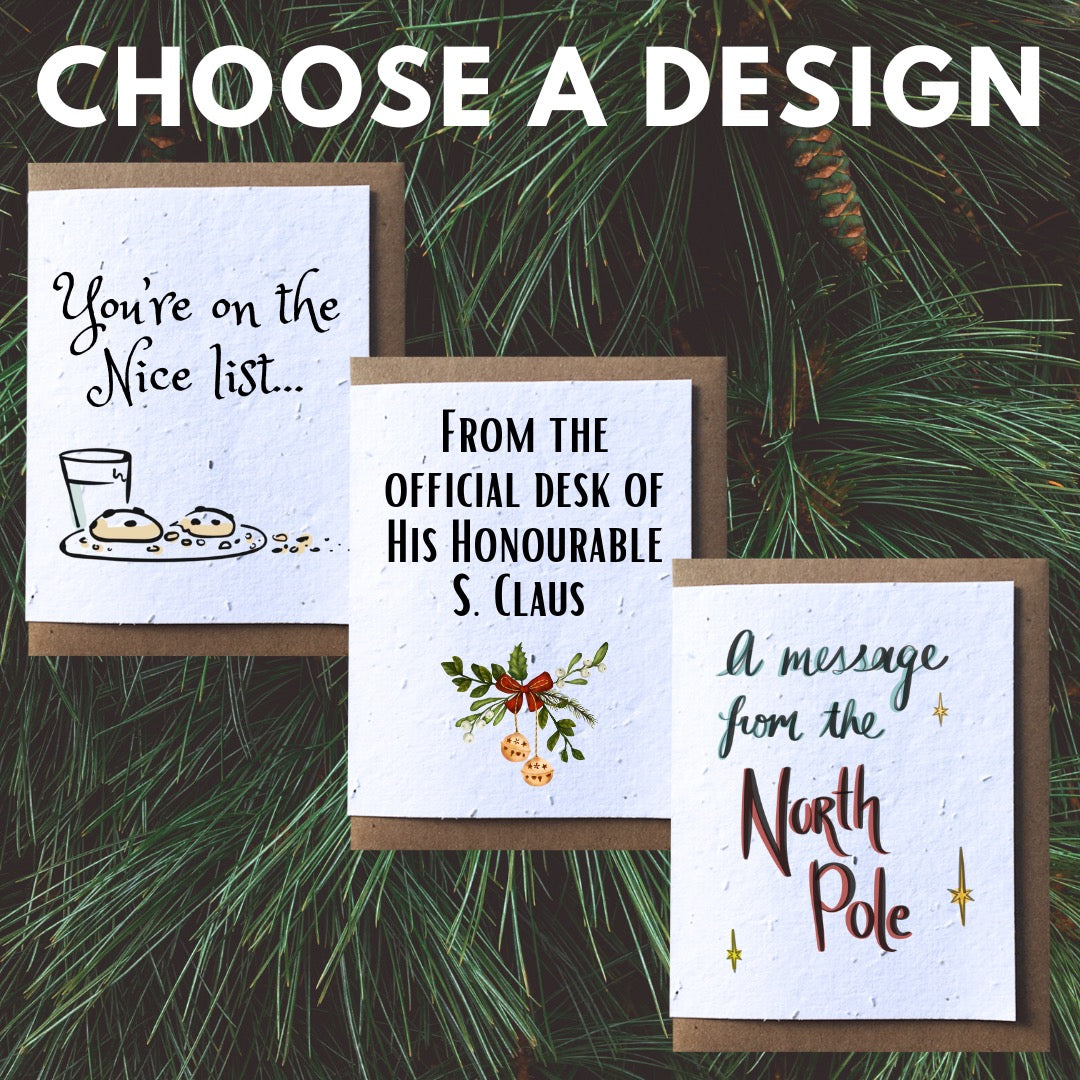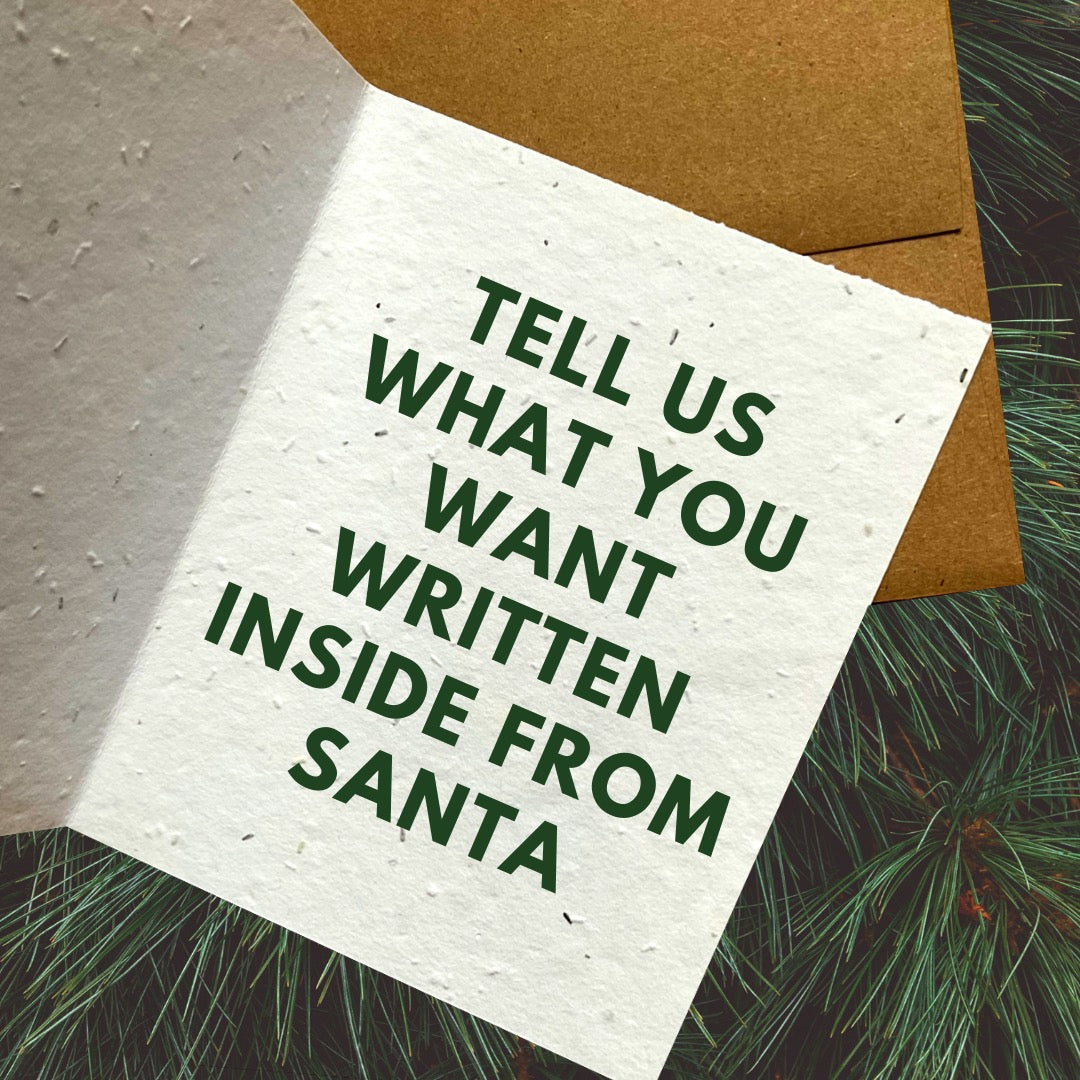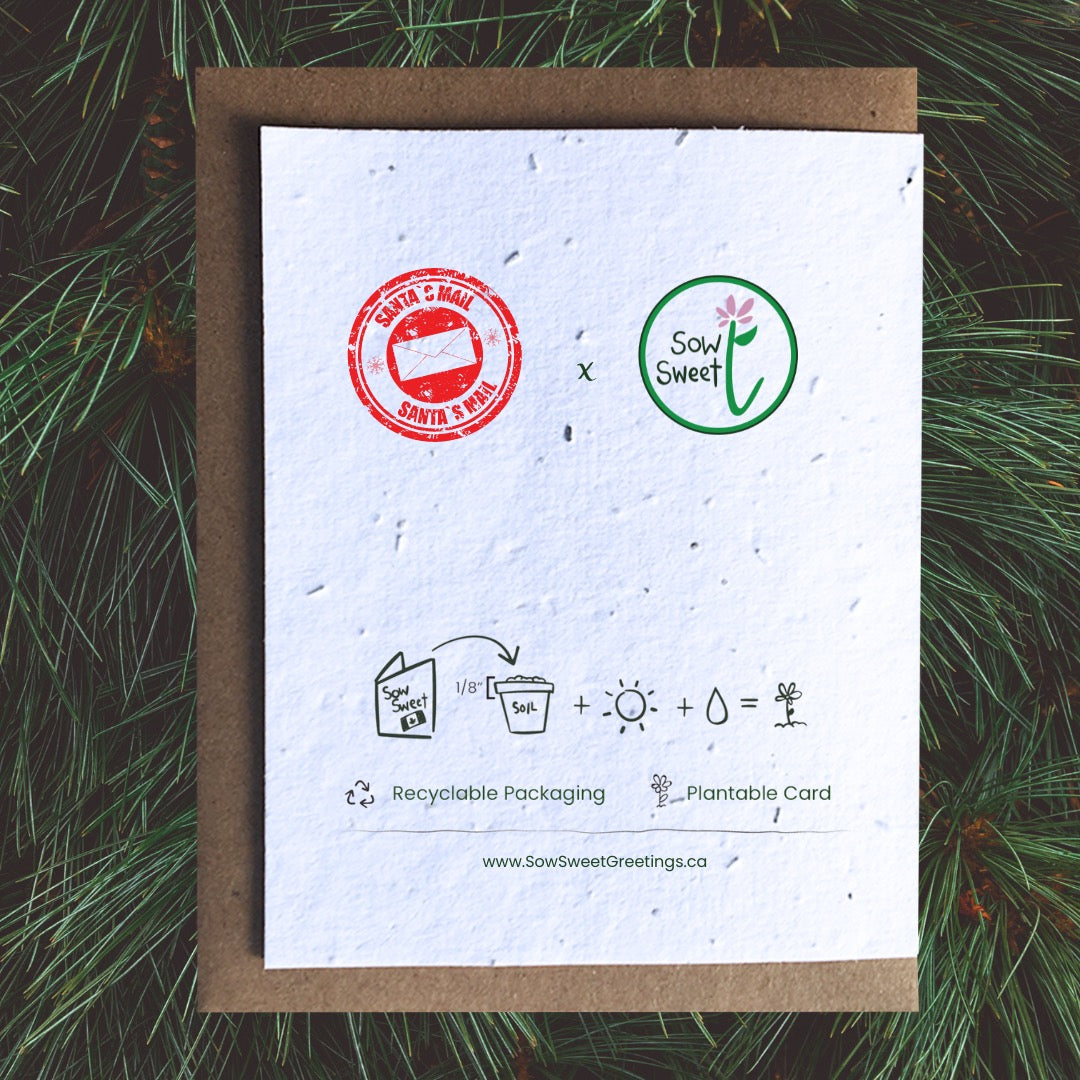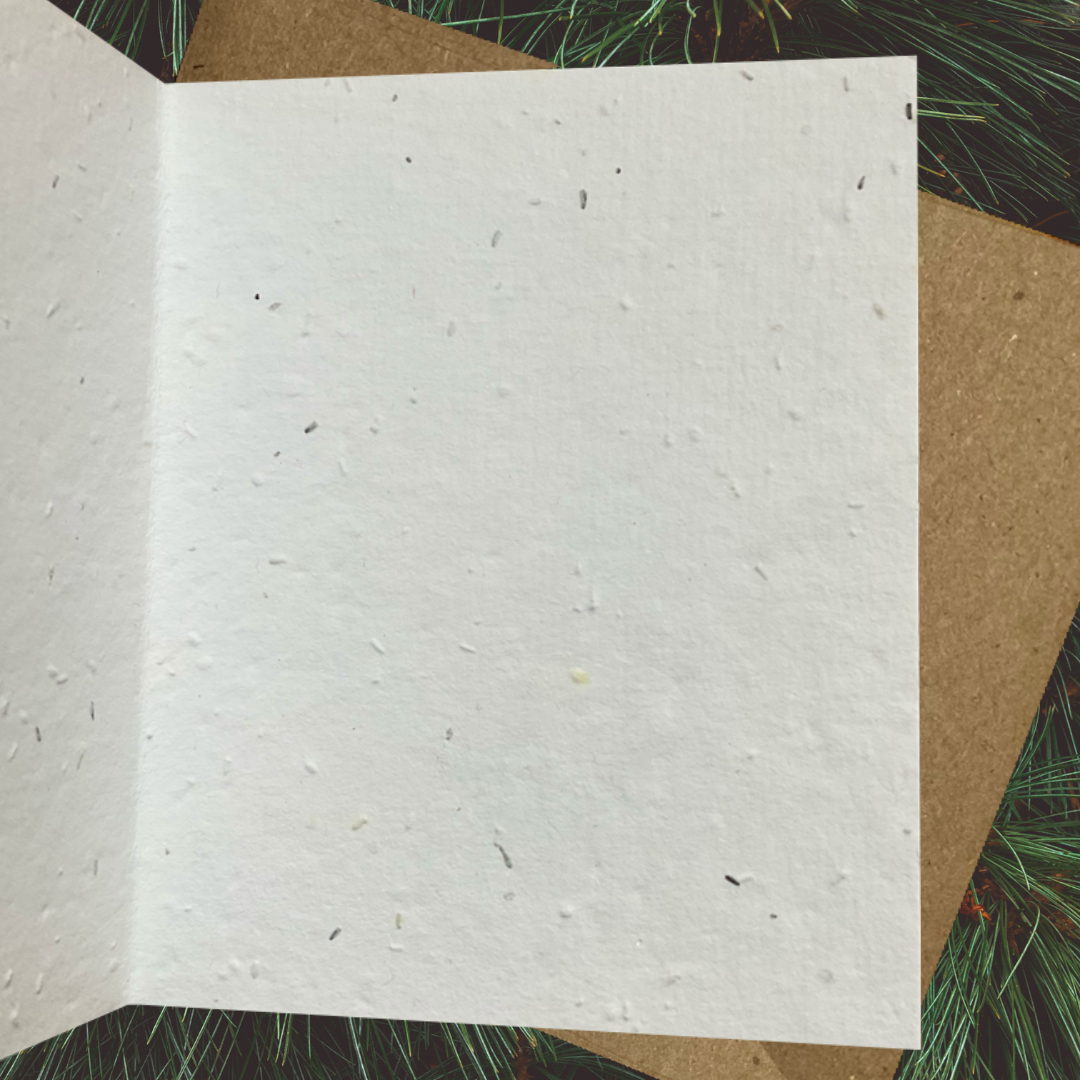 Planting Instructions
How to Plant your Pun!
What you'll Need:
a pot for planting (or a spot in the ground)

some good potting soil

plantable paper (a piece of a SowSweet greeting card)

water

a sunny corner
How to:
STEP 1 - PREPARE YOUR POT
Fill your pot 2/3 full with good potting soil. Tamp down the soil and add more if necessary. You want the pot to be firmly full, but not packed. The paper can be planted indoors or outside, so you get to choose according to the temperature and conditions at the time of planting (we don't recommend planting outside if it's blizzarding or desert-hot!)
Take your plantable paper and cover the soil in the prepared pot with the paper. It's okay if the paper overlaps. Spread a 1/8 inch layer of soil over the plantable paper pieces and tamp down gently.

STEP 3 - WATER DURING GERMINATION

After planting the paper in your pot, give it a good soak. You want the paper and the soil to be nicely damp but not swimming in water. During the first 10 days, keep the paper moist at all times. The water is necessary for germination.

STEP 4 - CARE AFTER GERMINATION

Once sprouts appear, continue to keep the paper moist but be careful not to overwater. Once sturdy plants appear, water as needed. 

STEP 5 - ENJOY THE FLOWERS

As with anything in life, nothing is guaranteed! If the flowers start to blossom, enjoy them in the pot or cut them and place in a decorative vase.

What You Might See Grow!
.
*Disclaimer: The paper, seeds, and flowers resulting from this product are not to be ingested*